The KEENiTop
Our tops are custom made to order here in Tobaccoville, North Carolina. We use a premium grade of two layer materials, 1000 Denier Canvas Twill with outer with PVC coated inner on all our tops and sewn using a bonded polyester thread for maximum strength. There are two versions of the KeeniTop — the original using a top rail and one using the OEM softtop header bar. Have a Double Hoop Rollbar or Style Bar? Our original Keenitop works perfect with no additional supports!
This is the Top Rail install on our Miata, Does not interfer with operation of the soft-top or the hardtop, can be painted to match the car and does not detract from the looks at all. The top slides into the track making it a snap to put on and take off

The Top is secured in the front by installing a pre-drilled and formed PVC rail at the very top of the windshield with #6 screws(proper size drill is also included with the rail). Please note this does require drilling holes in the windshield frame. If you are not comfortable with drilling holes in your car, have a professional do it for you, very simple and should take about 15 minute. Comes in Black or White. Standard is black, use the white only if you are installing on a white car or are repainting a very light color.
NOTE: This does not affect frame integrity and the rail seals against the frame when tightened down
This makes a strong, wind and water resistant channel that the welded 7.5mm cord sewn into the top slides into and can be done from any side of the car, easily and quickly!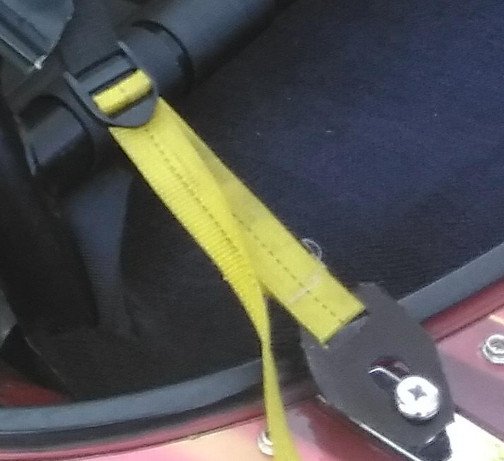 At the back we use a buckle sewn to the top, 500lb test nylon webbing with a plastic no-scratch lock to keep it securely in place.
---
GJR Racing llc
6521 Fisher Rd, Tobaccoville, NC 27050-9664
336-848-8293